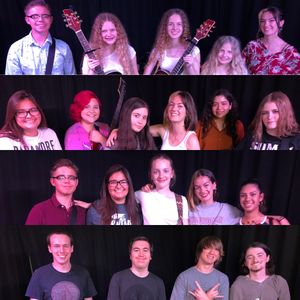 Our students will be back at the Civic Center (East Wing) on Thursday, May 16th, 7:00 P.M. This time featuring all of our bands! 
GWYNN (Mia, Kylie & Lila) has been working hard preparing for a trip to Nashville where they will be recording their first couple of singles. We get to see them a couple of times a week, but they keep themselves busy everyday gigging and songwriting along side their awesome mom-manager (or momager). On Thursday they will be performing some covers with Hunter Nelson (bass) and Wyatt Mellon (not pictured - drums) completing the band.
Bloom is a brand new group made up of some fun, talented, young musicians in the making. They've been together for just a couple of months and some of the instrumentalists have been in lessons for less than a year! When you listen to them you won't believe it but it's true! These young women rock! *Leilani, Serena, Julia, Isa, Angeliah and Zaily.
Our Monday Night group has been around for a while but recently had some changes in personnel. It consists of students ranging from 7th graders up to high school seniors. They will perform a fun set of popular tunes from now and then. One of the most fun things about these bunch, is the way their personalities come through from singer to singer, song to song. They have so much fun together and we know you will really enjoy them. *Hunter, Leilani, Avery, Isa, Alyssa and (not pictured) Alexandra.
Last but certainly not least, we will get a little loud with The Element, or our Tuesday night rock group, These guys perform some cool classic rock tunes and feature lots of fun guitar riffs! New to the group, Hunter will be joining Tyler, Jax, Zane and Tab on stage. 
Hope you can join us! This is a free event, but as always, your donations are much appreciated.