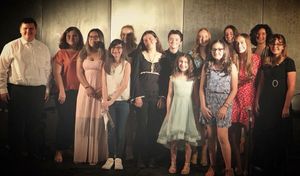 We had such a great time last week during our Voice Studio Showcase! Although it was a concert featuring some of our voice students, the band on stage was also made up of JAM U students.
We will be updating our "Shows" calendar here pretty soon to include a few live stream events that will be coming at you from our JAM U bands in the month of July. Already in the calendar are a couple of gigs at local restaurant/bar, The Yuma Landing. If you live in the area, come check these kids out!
Visit Shows for more info on performances by Jason & Elle/their JAM U Students.